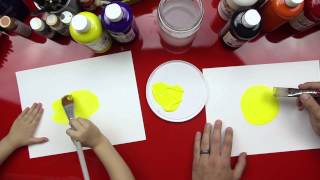 HAPPY EASTER/SPRING!!!
Hey art friends this video is for really young artists. We tried to keep the steps for painting a baby chicken super simple but still really fun.
Materials used:
Tempera paint:
Mixed media paper
Paint brushes
Jar of water
Paint tray
Paper towels
Also learn how to draw a baby chicken:
Or, if you're looking for something more challenging…learn how to draw the Easter Bunny:
SUBSCRIBE for regular drawing and art lessons:
Visit AFK website for free printable steps:
LIKE us on FACEBOOK!
FOLLOW us on TWITTER!
FOLLOW us on TUMBLR:
FOLLOW our INSTAGRAM:
JOIN our circle on GOOGLE PLUS:
Hi there! My name is Rob, and I have three super cool kids. We love doing art and sharing it with others. We upload new art videos weekly. Thanks for stoping by. If you'd like to know more about us: