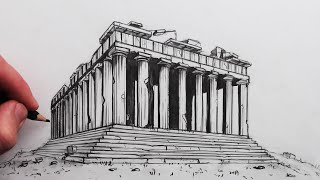 See how to draw The Parthenon Then and Now. Easy pencil drawing tutorial. View my new drawing course for beginners:
Please SUBSCRIBE for a new drawing challenge every week:
Circle Line Art School Episode #402: How to Draw The Parthenon Temple Athens.
The Parthenon is a former temple in Athens, Greece. It is still to be found at the top of the Acropolis and is dedicated to the goddess Athena. Construction began in 447 BC and was completed by 432 BC. It is the most famous surviving building of Classical Greece. The style of architecture follows the Doric order.
Join Circle Line Art School and learn to draw with more confidence from scratch:
Music used in this drawing tutorial:
Satya Yuga by Jesse Gallagher
Hi, my name is Tom McPherson and I founded Circle Line Art School as an online art education resource for all. My aim is to inspire people to learn to draw and be more creative.I post a new free drawing tutorial every week and visit my website to view my online drawing courses:
Thank you for your support and have a great day!
Tom McPherson
How to Draw Perspective Step by Step: Free online drawing tutorial from Circle Line Art School