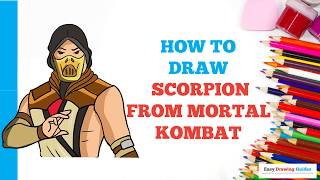 Learn to draw Scorpion from Mortal Kombat. This step-by-step tutorial makes it easy. Kids and beginners alike can now draw a great looking Scorpion from Mortal Kombat.
Mortal Kombat is an early video game that debuted in 1992. It is a fantasy-themed fighting game. It takes place in a fictional universe of eighteen realms created by the Elder Gods. The inhabitants of one realm can only conquer another through a series of Mortal Kombat tournaments, in which each realm's greatest warriors battle one another.
You don't need any special pens or tools. A regular pencil, eraser, and paper are all you need.
Have fun!
You can find the illustrated 'How to Draw Scorpion from Mortal Kombat' drawing guide with a downloadable PDF tutorial on .
If you'd love to learn to draw better, click the SUBSCRIBE button above or click here: .
If you liked this drawing tutorial, click the thumbs up icon to LIKE it.
You can find more easy drawing guides on .