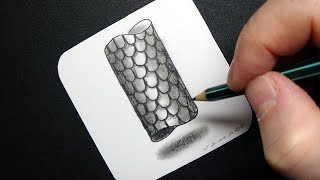 How to Draw Scaly Patterned Cylinder. Drawing shadow. Very easy. Learn to draw. Drawing scaly pattern.
——————————–
Material used:
Mixed technique.
Paper: 100×100 mm, white colored.
Graphite pencil.
Marker, edding 1880 drawliner 0.5.
Faber-Castell pen and pastels.
Kneaded eraser.
Cotton material.
———————————
Music:
Sea of Sand – Eathan Meixsell.
(Youtube Music Audio Library)
———————————
By Sandor Vamos. I'm Hungarian.
Copyright © New video 2020. Vamos. All rights reserved.