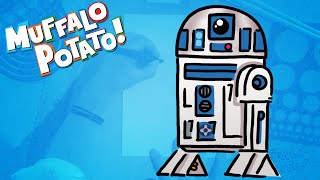 PLEASE DON'T FORGET TO SUBSCRIBE TO CATCH EVERY NEW EPISODE!
It's the unique show that can make anyone draw anything in minutes the #muffalopotato way!
We love to make artwork silly and fun… so #stayhome #withme
and learn #howtodraw the Muffalo Potato way!
PLEASE GO TO FACEBOOK AND LIKE US!
and WRITE TO JOHN & MUFFALO – JOHN@MUFFALOPOTATO.COM ONLINE STORE — — ONLINE STORE
Learn to draw anything fast, easy and fun with Muffalo Potato.
And head over to
because our store full of stuff is NOW OPEN!!
New episodes every week! Subscribe! www.youtube.com/subscription_center?add_­­­user=muffalopotato
Visit us at for all sorts of goodies AND like us on Facebook at
Be sure to check out our FREE app for iPhone and iPad here:
Also, if you have a drawing suggestion, leave us a comment below. If you want to submit a drawing, visit our website at OR email John directly: john@muffalopotato.com.
Keep doodling!
– Muffalo –
Music credits: Muffalo Potato™