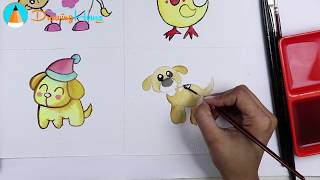 Animal Drawing Painting – Learn how to paint watercolor step by step.
This video tutorial will demonstrate how to draw and paint cartoon animals for beginners and kids.
Doing water coloring stuff is fun and this easy animal drawing lesson will make it more exciting.
All you need to have… Drawing Sheets, Pencil & Eraser, and Safe Water Colors… which you can easily buy online at a very affordable cost.
Kindly subscribe for more awesome videos.