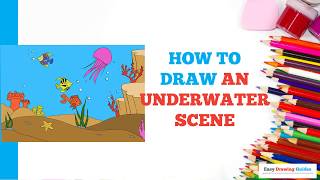 Learn to draw an underwater scene. This step-by-step tutorial makes it easy. Kids and beginners alike can now draw a great looking underwater scene.
Oceans have always been fascinating to people due to their abundant variety and alien features. Over seventy percent of the Earth's surface is covered by saltwater, yet some researchers have said that we know more about the surface of the moon than the ocean depths.
You don't need any special pens or tools. A regular pencil, eraser, and paper are all you need.
Have fun!
You can find the illustrated 'How to Draw an Underwater Scene' drawing guide with a downloadable PDF tutorial on .
If you'd love to learn to draw better, click the SUBSCRIBE button above or click here: .
If you liked this drawing tutorial, click the thumbs up icon to LIKE it.
You can find more easy drawing guides on .