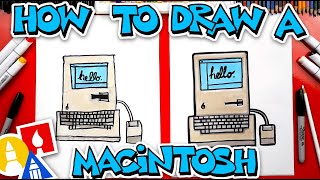 Follow along with us and learn how to draw a vintage Macintosh! These computers were so cool, I remember them when I was a kid. I loved playing the first games and using the graphics program. I would still love to purchase a working one and bring all of the nostalgia back ?
I hope this lesson is a fun moment to share with your younger artists.
#stayhome and draw #withme
Join our monthly membership and download our app! You can watch our lessons in a safe distraction-free environment. In the app, you can also download lessons to watch without an internet connection. Visit to learn more and join!
? VISIT OUR AMAZON ART SUPPLY STORE
? SUBSCRIBE to our channel here
? POST your child's artwork to:
FACEBOOK
TWITTER
INSTAGRAM
?? ?? ?? ?? ?? ?? Learn more about us
#howtodraw #artforkidshub