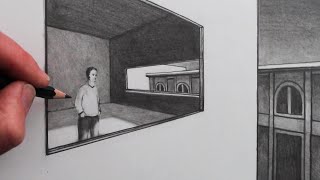 See how to draw a view looking into a room, using two vanishing points. Would you like to learn to draw from scratch? Visit:
Watch Next:
How to Draw Perspective Playlist:
Circle Line Art School Episode #392: How to Draw a Room Interior using 2-Point Perspective: Isolation. This drawing is based on a composition by Edward Hopper, the great american artist, famed for his images of isolation.
Music used in this drawing tutorial:
Invisible Beauty by Aakash Gandhi
Hi, my name is Tom McPherson and I founded Circle Line Art School as an online art education resource for all. My aim is to inspire people to learn to draw and be more creative.
If you would like to learn to draw from scratch, please consider joining my online drawing course for beginners, How To Draw From Scratch, where I will share with you all the best shortcuts I have discovered over the years, so that you can draw with greater confidence and ability, from scratch. To view the course click here:
Thank you for your support and have a great day!
Tom McPherson
Circle Line Art School
How to Draw Perspective Drawing Tutorial: Free online drawing tutorial from Circle Line Art School