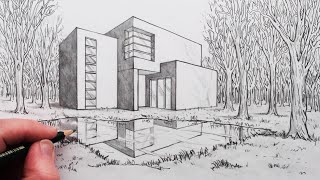 See How to Draw a House in Two Point Perspective: Subscribe for new video every week: Learn more:
Circle Line Art School episode #374: How to Draw a House in 2-Point Perspective with Reflection in Landscape.
Music used in this drawing tutorial:
Fluidscape by Kevin MacLeod is licensed under a Creative Commons Attribution license ()
Source:
Artist:
Watch Next: How to Draw Perspective Playlist:
I hope you LIKE, COMMENT & SUBSCRIBE:
Hi, my name is Tom McPherson and I founded Circle Line Art School as an online art education resource for all. My aim is to inspire people to learn to draw and be more creative.
For my website please visit:
Thank you for your support and have a great day!
Tom McPherson
Circle Line Art School
Learn how to draw online for free with Circle Line Art School