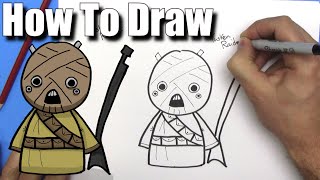 Step By Step Tutorial on how to draw a super easy chibi / kawaii Tusken Raider from Star Wars!
★☆Please leave a LIKE! and SUBSCRIBE★☆
☆★☆Share your drawings with me on INSTAGRAM: ☆★☆
Draw Kids Draw is a kid friendly drawing tutorial channel. How to draw for Kids step by step cute easy fun tutorials, family friendly cartoon, chibi, Kawaii drawing tutorials.
☆MY MINECRAFT CHANNEL: