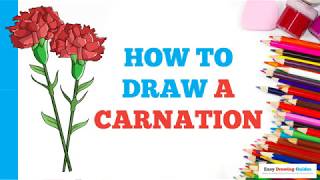 Learn to draw a carnation. This step-by-step tutorial makes it easy. Kids and beginners alike can now draw a great looking carnation.
The carnation is a flower native to the Mediterranean region. Also called clove pink or grenadine, carnations have a spicy aroma and have been cultivated for at least 2,000 years. The name "carnation" may be derived from the term "coronation," as flowers were often used in ceremonial crowns, or from the Latin carnis or incarnacyon due to the flowers flesh-toned hues.
You don't need any special pens or tools. A regular pencil, eraser, and paper are all you need.
Have fun!
You can find the illustrated 'How to Draw a Carnation' drawing guide with a downloadable PDF tutorial on .
If you'd love to learn to draw better, click the SUBSCRIBE button above or click here: .
If you liked this drawing tutorial, click the thumbs up icon to LIKE it.
You can find more easy drawing guides on .