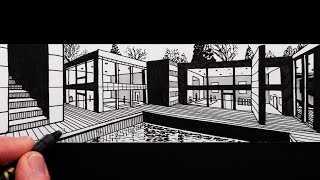 See How to Draw a Building using 2-Point Perspective in this fast pen drawing tutorial. Please SUBSCRIBE: Learn more:
Watch Next:
How to Draw Perspective Playlist:
Circle Line Art School Episode #377: How to Draw using Two Point Perspective:
1: Draw a Horizon Line
2: Draw two points on the Horizon Line
3: These two points are called Vanishing Points
4: Parallel lines that recede will look like they meet at one of the two Vanishing Points
5: All vertical lines stay vertical
6: When using a pen, I find I need to think about the line order and draw the near things first
Please leave a video comment with any ideas of what drawings you would like to see next, many thanks:)
Music used in this drawing tutorial:
RESPECOGNIZE by Diamond Ortiz
Hi, my name is Tom McPherson and I founded Circle Line Art School as an online art education resource for all. My aim is to inspire people to learn to draw and be more creative.
For my website please visit:
Thank you for your support and have a great day!
Tom McPherson
Circle Line Art School
How to Draw Perspective Step by Step: Free online drawing tutorial from Circle Line Art School