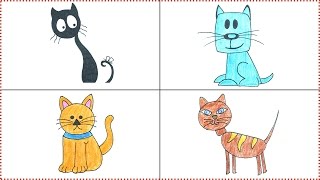 Cat Drawing Tutorial: How to Draw a Cat Step by Step for Kids and Beginners.
Learn how to draw a kitty in this step by step cat drawing tutorial. Your kids are going to love drawing this cute cat.
These Cartoon Cat Drawings are Simple, Easy to Draw, and Fun for Kids and Beginners.
For this Drawing Activity, You need…
1. Drawing Sheets
2. Pencil, Eraser
3. Fine Tip Black Marker
4. Pencil Colors
All you can buy online at a very low cost & have fun in your free time with kids.
Watch the video now and start drawing this cat now!