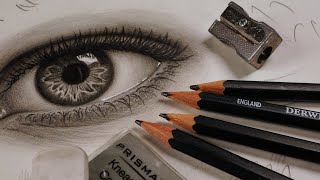 My recommended drawing supplies for beginners. You don't need to have all these tools to start (you really only need a pencil and paper), but having more tools can enhance your work and make the drawing process more efficient and easy!
Here's a little more info on some of the tools mentioned:
Paper Weight: This number is not the actual weight of the sketchbook or drawing pad. It is the weight of 500 sheets. The average copy paper or printer paper is around 20-30lbs (pounds).
Drawing Pad: I find that the thicker it is, the better because thicker sheets can hold up to a lot more wear and tear, especially when I'm working on a portrait drawing that takes hours of work. For me, 70lbs works great. Keep into consideration that I'm light to medium handed. If you draw using a lot of pressure, I'd recommend a drawing pad that's at least 80lbs.
Kneaded Eraser: When you first buy it, the eraser will NEED to be molded until it becomes SOFT. To speed up this process, scribble on your sketchpad to create a lot of graphite DUST. Then press your eraser onto the page, allowing it to pick up the graphite. Then knead the eraser so it envelops the graphite (knead it well). Basically, the more you use the eraser, the softer and more pliable it will become. You'll also notice the color turn darker (which is why the packaged eraser in my left hand looks so light in color).
To clean a kneaded eraser, just fold it in on itself a few times.
Tissues: The brand I use is Scotties.
✅ RELATED TUTORIALS
– How to make a blending stump:
✏️ TOOLS
– Sketchbook (for practice work):
– Drawing Pad (for polished art pieces):
– Derwent Pencils:
– Plastic Eraser:
– Kneaded Eraser:
– Sharpener by Eisen:
– Ruler:
– SmudgeGuard: (Or ) *Not sponsored*
– Blending Tool (Make or buy):
– Make your own:
– Buy a pack:
⏰ SKIP TO TIMESTAMP ⏰
Sketchbook – 0:04
Drawing Pad – 0:46
Pencils – 1:29
Erasers – 2:25
Sharpener – 3:08
Ruler – 3:31
Smudge Guard – 3:45
Blending Tool – 4:15
? Subscribe for more FREE drawing tutorials:
? MY CAMERA EQUIPMENT
Overhead Camera and Lens (Sony A6500):
Video Capture Card:
Overhead Camera Crane:
Tripod:
Camera and lens for Macro Closeups from the side (Sony a 5000):
Lights:
Microphone:
? RFA STORE:
? If you enjoyed this video, help others enjoy it by adding captions in your native language. Thank you! –
DISCLAIMER
This content contains affiliate links. If you decide to make a purchase through the link, I will make a small commission at no additional cost to you. This helps fund free tutorials on the RFA channel and website. Thank you for your support!