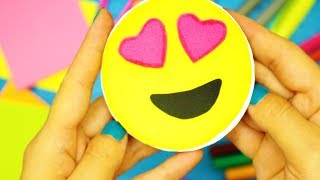 12 AMAZING AND EASY CRAFTS
Please Subscribe to my channel :
You'll be amazed how gorgeous this DIY project with toilet paper rolls really is. These adorable flowers from toilet paper rolls could be given on any occasion to anyone or can be an unique centerpiece. I'm wondering if toilet paper producers think about how valuable the inside carton rolls are 🙂
DIY Paper Hearts! Simple paper crafts can be the most fun and adorable, and this certainly goes for this paper heart craft. It's easy to make and you can quickly decorate the whole room with a love filled garland, perfect for Valentines day or any other day of the year.
DIY Flower Vase from glass! This vase, made from an empty glass with rice inside and decorated with pink paper stars is genius. This is a wonderful way to show off those seasonal blooms and it is so easy to make. What a great way to upcycle glass! It would be perfect for showing off those flowers in summer.
Soooo who loves the MINIONS? I thought this Minion Notebook Cover Craft Idea would be perfect for this back to school season.For this amzing and easy craft you just need a notebook, yellow paper, old jeans, glue gun and some paint. This minion notebook cover is fast and easy to DIY and beautiful.
DIY Plastic Bottle Flower Vase with pom pom. For this amazing craft you don't need a lot of supplies, just 2 emty plastic bottles that you want to make into a vase and your favorite colors of pom pom. This Amazing DIY Plastic Bottle Vase is really cheap and easy to make and will add that designer touch to your home.
Next DIY project are some cute and amazing paper roses! What a gorgeous way to add a little personal touch to your hoe! One of the goals for decorate a home is to put your personal touch in it. One way to do so is to add some gorgeous sculptural paper roses. In this video you will find my tutorial on how to make this amaizng and realistic paper roses.
How to make colored rice? Coloured rice is wonderful for sensory play, discovery bottles, and crafting! Rice can be used in so many ways for arts & crafts. The entire project takes only few minutes to complete.
DIY Tin can pencil holder craft ideas. Rather than throw away empty tin cans, why not recycle them? You can turn them into a stylish and amazing pen or pencil holder for your kids – it's the perfect craft idea for Back to School Week!
DIY Tin can glitter holder! These DIY tin can craft ideas is really cheap and easy to make. This amazing and colorful tin can pen holder look so expensive but it is really cheap to make and don't take long at all to finish. For this DIY project you need some drinking straw, and an emty tin can. This tin can glitter holder is simple and so gorgeous when it is finished.
DIY Emoji Notebook! So cute right? Who doesn't love emojis? They tell stories and show emotions without having to say a word, and I think that's pretty cool. Today I made a cute and amazing DIY Emoji Notebook craft. Everyone needs more notebooks in their life, and with one of these ideas, your notebook can actually look like your favorite emoji. You can honestly have this DIY emoji notebook craft done in few minutes, even if it's your very first DIY project.
DIY Crepe Paper Flowers. Crepe paper flowers are a craft that's perfect for Valentine's Day, springtime, or for any other occasion. School-age kids will particularly love this craft. Crepe-paper flowers capture the essence of flowers without all the botanical details. Crepe- paper flowers crafts whimsy makes them not only a pleasure to behold, but also an enjoyable project to undertake. It's easy to make and they can use their growing dexterity to help trim and pull out the tissues to make these beautiful flowers.
DIY Coca Cola Candle Light: Don't throw away emties coca cola tin! Instead, turn it into a one-of-a-kind candle! DIY recycled can luminaries — a quick craft to light up your holidays. Who knew a recycled can could look so beautiful and festive? Instead of tossing your cans into the recycling bin, create some pretty luminaries to decorate the house.
So. This is it for this video with amazing and easy craft ideas. I hope you liked these projects and dont't forget to subscribe!
______________________
Become my Friend
Youtube:
Facebook:
Twitter:
Instagram:
G+:
______________________
Now, what are you waiting for?! Do you have other great DIY or craft ideas? Please share them with us in the comments section below!
______________________
Music used in this DIY video is from Youtube Library Under Creative Commons Attribution 3.0 license ( )